Albums & Collections
The classic Realm of the Rhododendron album is a beautiful way to present your images and relive the fond memories for many years. Collections reflect a substantial discount off of á la carte print pricing and include extra gift prints to share with family, or place in a frame.
New for 2019! The image box (shown below) is a beautiful way to enjoy your prints and digitals images too. Includes a 4x6 print and digital version of all Proofs in your catalog.
Holiday Cards!
In addition to beautiful albums and portraits, we also offer holiday cards so you can share your memories with all of your friends and family. Printed on high quality greeting card stock, these cards are the kind people hold on to for many years after the holidays have passed. They include envelopes and text can be customized for your family.
Frequently Asked Questions About Orders
Q: Is it possible to only purchase a few prints without a collection?
A: Yes. Á la carte print and portrait pricing details are included with your photo proofs. Any additional prints purchased with a collection receive a substantial discount.
Q: Is there a web site where I can see all of the pictures taken of the event?
A: No photos are online. Each family receives their own unique set of proofs either via mail or email.
Q: I love more than 75 photos that I want in an album what are my options?
A: We could further customize the heirloom collection to include more pages. The pricing would change to reflect the number of additional pages added and would require a custom quote based on your needs. Also, the image box could be a great option for you.
Q: How will the inside of my album look?
A:
Customized Stationery Page
At the beginning of every album is a piece of stationery with the Debutante's name, the Brigade coat of arms and the dates of the events. It's a perfect introduction to set the stage for the photos that follow.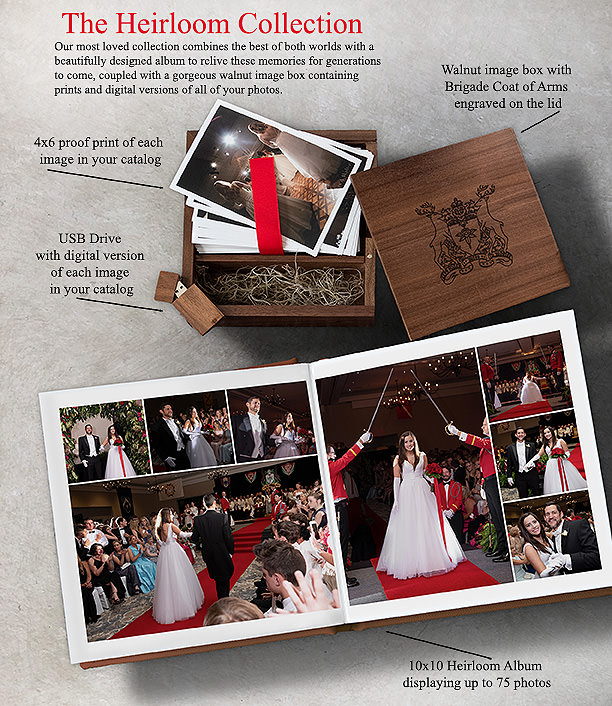 This album is larger in size than the Keepsake and Signature options (10x10) and custom designed to showcase more than one photo per page for up to 75 photos total.
This collection also comes with a gorgeous walnut image box that includes a 4x6 print and digital file of every image in your proof catalog.
Keepsake and Signature Albums
Both are 8x8 in size and include one image per page as shown here. Twenty-four photos for the Keepsake and thirty-six for the Signature.
Q: I saw that a "digital image" included in some collections and on the a la carte options. What is that used for?
A: Families often use this for their holiday cards, to print and share with friends, or to share on their social media accounts.
Q: If I choose a digital file, how will I receive it?
A: After I have retouched and fully enhanced your image, you'll receive an email containing a link that will allow you to download the requested image. If you order the Image box (more info below) your digitals will arrive on a USB drive.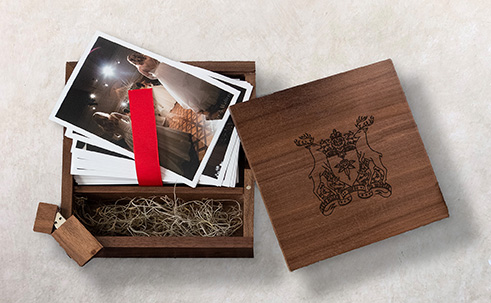 Q: I just want all of my photos in digital format, is that possible?
A: Yes indeed! We have created an image box that includes a 4x6 print of all of the proofs in your catalog, plus a USB with a digital copy of all the images in your proof catalog.
Q: What are the differences between the collections and albums offered?
A:
Q: Can I call and give my order over the phone?
A: I've found that can lead to some issues. Better to use the super easy web form. No money is transacted on the form, so no risk of any nefarious hacking shenanigans.
Q: I have a question that is not covered here, who do I call?
A: Call James directly at 919-601-2386 ——————->
Or email james@waltersandwalters.com